I published Low Down Dirty Vote Volume 3: The Color of My Vote in 2022, and it's been nominated for a Best Anthology 2023 Anthony award! We raised $10k for Democracy Docket, the public facing branch of the organization who have fought hard to defend voting rights in America.
I'm also thrilled to report that two stories from LDDV 3 have won nominations and accolades of their own:
Gabriel Valjan's story "C.O.D." has been nominated for a Best Short Story Anthony 2023. You can read his story in this PDF.
Faye Snowden's story "The Obsession of Abel Tangier" has been accepted into Best American Mystery and Suspense 2023, edited by Lisa Unger and Steph Cha.
My story "Invoice Overdue," my first romantic suspense story, appears in SoWest: Love Kills. The Kindle version is available for pre-order now. Paperback and Kindle version launch on September 10, 2021.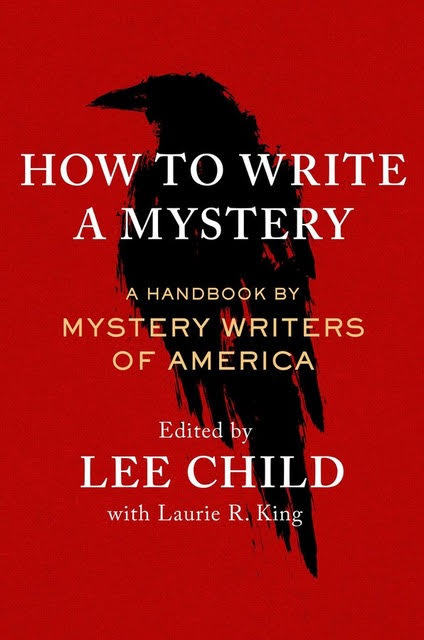 MWA's How To Write a Mystery handbook launches on April 27, 2021! I contributed a wee blurb about how to manage social media without alienating your followers or allowing it to eat up all your writing time.
Since there are about 70 contributors and the book won an Agatha (2022 Best Nonfiction), does that make me 1/70th of an Agatha award winner?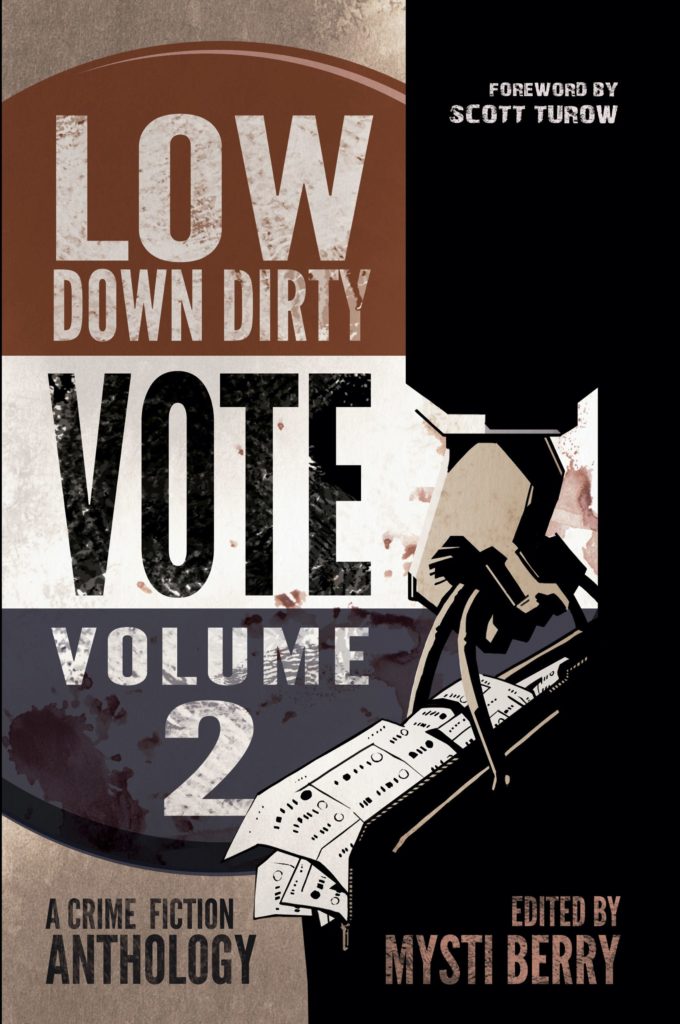 Barnes & Noble | Amazon | Indiebound.org
It was my honor to edit and publish Low Down Dirty Vote, Volume 2 on July 4, 2020. An amazing collection of writers, and a foreword by Scott Turow, we have raised $10,000 for the Southern Poverty Law Center for their work to defend voting rights. You can see our National Voter Registration Day celebration on crowdcast.io. Also, author Faye Snowden's story, "One Bullet. One Vote." was accepted into the long-running series Best American Mystery and Suspense 2021, edited by Steph Cha and Alafair Burke.
Mysti was one of ten winner of the Best First Sentence competition at ThrillerFest 2019, awarded by David Corbett.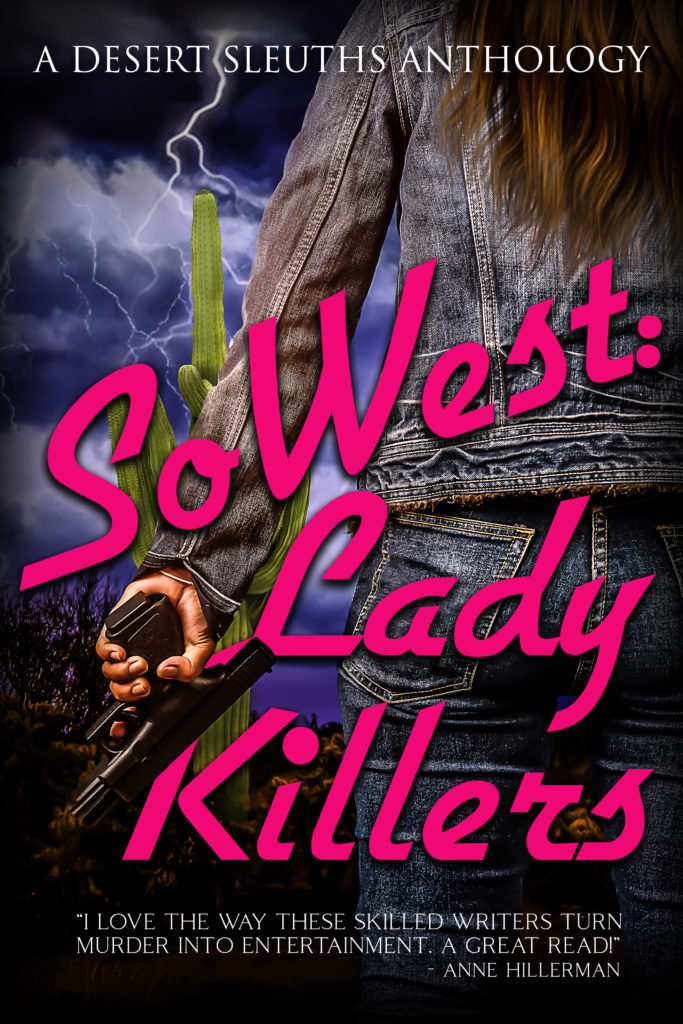 The latest Sisters in Crime Desert Sleuths chapter anthology launched in late September 2019! Check out my story, "Brewery Gulch."
Don't miss other great stories by Shannon Baker, Deb Ledford, RK Olson, and many others!
The September/October 2019 issue of Alfred Hitchcock Mystery Magazine includes "My Yorkshire Ripper," my first in this fabulous magazine edited by Linda Landrigan.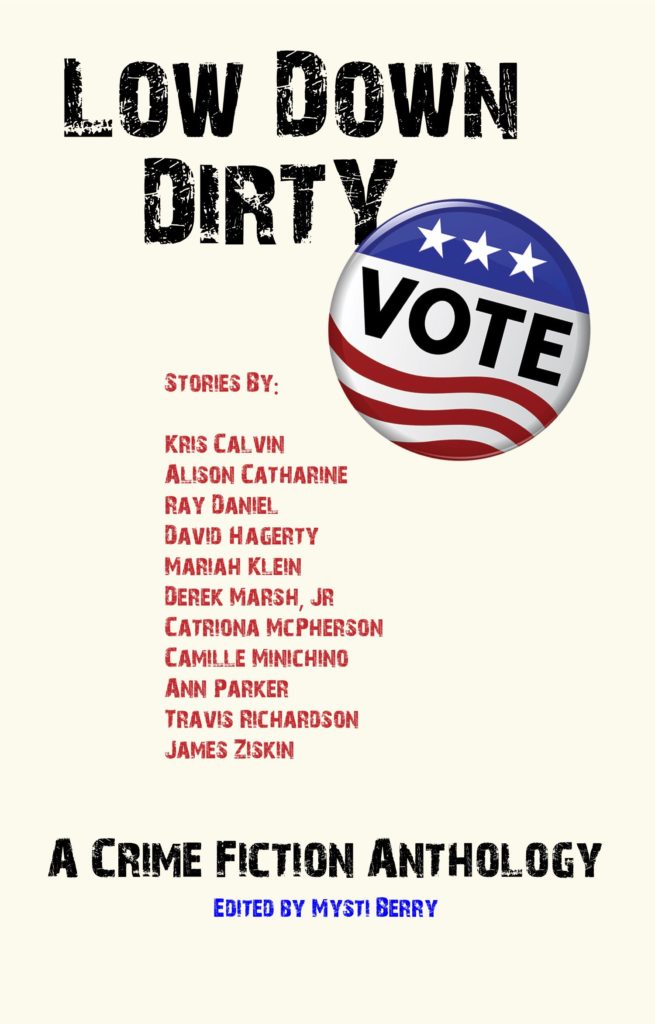 I edited and published Low Down Dirty Vote, a collection of crime fiction. Eleven talented authors broke out of their comfort zones and produced varied and fascinating stories around the theme "fighting voter suppression." 100% of sales contributed to the ACLU Foundation and earmarked to help them fight voter suppression. We raised $5,000 and created unique crime fiction in nearly every voice, tone, and sub-genre from noir to humorous.
You can buy this book from all the regular outlets, and we'll keep donating the sales until voter suppression is defeated.
"Johnny Depp Kickline of Doom" appears in the June 2016 issue of Ellery Queen Mystery Magazine. There really was a Johnny Depp kickline at Comic Con–not so much a murder!
Based loosely on my husband's many years attending Comic Con, the story celebrates the many wonderful characters I met as I helped Dale at over a decade's worth of shows.
This was my first short story paycheck. This magazine is edited by Janet Hutchings.
Archives
I've been lucky to place stories in anthologies that support local writing organizations:
"Inside Job" in the second Guppies anthology Fish Nets (Sisters in Crime chapter of pre-published writers) published in 2013. The Guppies chapter is incredibly supportive of writers and I recommend it to anyone who needs a community of writers.
"Something Shiny" in Switchback Issue 4, 2005, the University of San Francisco MFA in Writing program's literary magazine. It was an experiment in form and works best when read aloud. This story was also published in the San Francisco Writer's Conference's first anthology, Building Bridges from Readers to Writers in 2006.
An excerpt from my novel Daughter of the Wind was published in the 2005 Todd Point Review, a collection of winning entries from the Mendocino Coast Writers Conference contest.
Awards
2022 Agatha Award Best Nonfiction (shared with 69 other writers!)
2019 ITW Best First Sentence Award: "Don't get snippy with me, Elevator!"
2006 East of Eden Writers Conference, awards for screenplay and novel
2005 Mendocino Coast Writers Conference, Finalist in short fiction and novel categories
2004 Santa Fe Screenwriting Conference Actors' Choice Award Winner, June 2004
2002 Santa Fe Screenwriting Conference Actors' Choice Award Winner, October 2002
2001 Mendocino Coast Writers Conference, Finalist in fiction category
1999 aGLFF award winner, "St. John."
1998 UC Irvine Extension Screenwriting award, "St. John."
1998 Semi-finalist Maui Screenwriting award, "St. John."
1998 CineWomen short scene competition, "St. John."
1996 Wordsmyth screenwriting competition for feature "Colorado Story."
1995 Nevada State Screenplay Competition for feature "Crescent Peak."
Technical Writing Awards
Winner, STC 2008 API Guide for Salesforce
Winner, STC 2002 installation guide for Hyperion