I edited and published Low Down Dirty Vote, a collection of crime fiction. Eleven talented authors broke out of their comfort zones and produced varied and fascinating stories around the theme "fighting voter suppression." 100% of sales contributed to the ACLU Foundation and earmarked to help them fight voter suppression.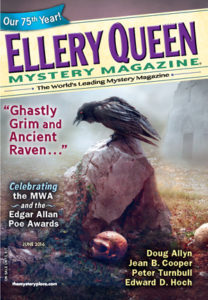 "Johnny Depp Kickline of Doom" appears in the June 2016 issue of Ellery Queen Mystery Magazine. There really was a Johnny Depp kickline at Comic Con. Not so much the murder.
Sometime next year, a new short story of mine will be in Alfred Hitchcock Mystery Magazine. I'm so excited!